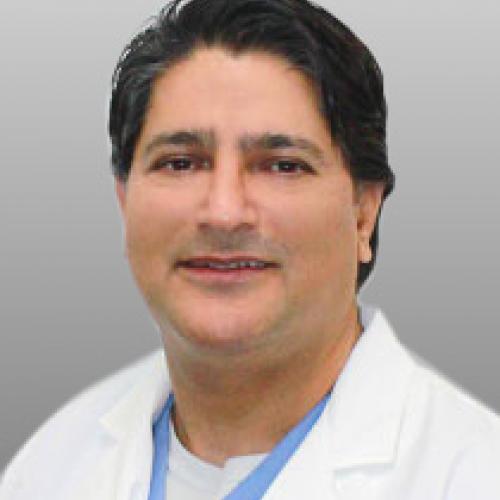 Specialty

Ophthalmology

Phone

Practice
See practice website for office locations.
Dr. Haji is Board Certified by the American Board of Ophthalmology. He is Fellowship trained in diseases of the Retina.  Dr. Haji completed a post-doctoral Fellowship in cornea, refractive surgery and clinical glaucoma. Dr. Haji brings an abundance of knowledge, experience, and medical research to Newsom Eye, providing his patients with the best technology in both surgical and medical treatments. In addition to his medical skills, Dr. Haji has authored and co-authored thirteen papers in peer reviewed journals, including the Archives of Ophthalmology.
Although Dr. Haji is new to Tampa Bay, he has been residing in Florida for the past six years. His personal interests include spending time with his wife and two children, and enjoys playing golf, soccer, ping pong, and tennis.
EDUCATION
Fellowship in Vitreoretinal, University of Florida College of Medicine, Jacksonville, FL
Residency in Ophthalmology, University of Missouri-Kansas City School of Medicine, Kansas City, MO
Fellowship in Research Medicine, Mount Sinai School of New York, NY
Internship in Specialty Contact Lenses, The Eye Institute, Salus University, Elkins Park, PA
Internship, New York Presbyterian/Weill Cornell College of Medicine, New York, NY
Doctor of Medicine, Graduate of Government Medical College, Kashmir University, Srinagar, India
RESEARCH AND DEVELOPMENT
Murthy RK, Haji S, Sambhav K, Grover S, Chalam KV. Clinical applications of spectral domain optical coherence tomography in retinal diseases. Biomed J. 2016
Kaja S, Shah AA, Haji SA, Patel KB, Naumchuk Y, Zabaneh A, Gerdes BC, Kunjukunju N, Sabates NR, Cassell MA, Lord RK, Pikey KP, Poulose A, Koulen P. Nampt/PBEF/Visfatin serum levels: a new biomarker for retinal blood vessel occlusions. Clinical Ophthalmology. 2015
Frenkel MP, Haji SA, Frenkel RP. The Effect of Prophylactic Use of IOP Lowering Medication on IOP Spikes After Intravitreal Injections. Arch Ophthalmology. 2010
Frenkel RE, Haji SA,  La M, Frenkel MP, Angela Reyes. A protocol for the retina surgeon's safe initial intravitreal injections. Clinical Ophthalmology. 2010
Haji SA, Heather B. Seith, Ronald E. Frenkel. The Effect of Multiple Anti-VEGF Intravitreal Injections on Retinal Capillary Blood Flow. ARVO Meeting Abstract. 2012
PROFESSIONAL ASSOCIATIONS
American Academy of Ophthalmology
American Society of Retina Specialists
Association for Research in Vision and Ophthalmology
American Glaucoma Society
American Medical Association